Our mission is to help people with their increasingly complex financial situations by helping to create simplicity and peace of mind.
I find that most people I have the pleasure of meeting may already have resources in their life that have helped them with components of their financial needs. What is surprising is how often it is pieced together without a blueprint or ongoing advice. Our expertise is finding out what is really important to you and your family and creating a plan to help guide you to better solutions.
Our process is simple….
We work with you or your business by asking you questions and gathering the information necessary to assemble a plan for you. This takes a commitment of your time and ours. We will work with you to build a strategy that is right for you. We help develop and deliver the best solutions that together we determine are your priorities. We will stay in touch so as your needs change we can make the necessary changes to your financial plan.
We know you have many of options when it comes to selecting an advisor. We would be honored to have the opportunity to see if we might be what you are looking for.
Physicians Nationwide
Darrin Englebert is a member of Physicians Nationwide. Physicians Nationwide is a group of qualified and experienced Northwestern Mutual Financial Representatives who specialize in serving the unique financial needs of physicians.
---
Understanding the Unique Needs of Physicians and Dentists
Darrin Englebert has developed a unique understanding of medical professionals and their financial priorities first-hand; Darrin's wife Tina is a pediatrician.
Darrin believes that "living outside of your means and procrastination are two main reasons when even higher income professionals fail financially". Being married to a physician and starting out with massive student loan debt and a high tax bracket, Darrin can personally relate to the overwhelming feeling that can often times affect young or even established physicians . Minimizing the impact of taxes, establishing a budget for expenses/saving and protecting your income and your family are just a few areas to establish early on. Having first being a client of Northwestern Mutual prior to marriage, and now helping people in the same position as he and his wife found themselves years ago, Darrin brings an advantage that his physician clients especially appreciate. 
 
For information on Disability Insurance for Physicians and Dentists, click the following link: https://www.northwesternmutual.com/learning-center/videos/disability-income-insurance-for-physicians-and-dentists
Please email me if you are a physician or dentist interested in attending our next Lunch and Learn session, darrin.englebert@nm.com

Here is a sample of our topics:
"Medical Own Occupation Disability Definitions:  What you need to know"
 "Financial Security 101"
"Wealth Building: Strategies to Manage Risk, Taxes, and Liquidity"
Knowing the Business Owner
For over 20 years, Darrin has been working for or working with small business owners.  As an entrepreneur your best investment is your business and your ability to make it successful. Darrin's business owner clients appreciate his experience and the fact that he will challenge the status quo with ideas that will benefit them and their families. Whether your needs are attracting/retaining key employees, succession planning, estate planning, or protecting key employees, Darrin or one of his specialists would welcome the opportunity to be part of your team to help address your needs.
Community Involvement
The Fight Against Childhood Cancer Comes to Milwaukee
Darrin Englebert is a proud participant in Northwestern Mutual's philanthropic program to accelerate the search for a cure to childhood cancer and to provide support to kids and families facing the daily struggles of this disease.

Partnering with Starlight Children's Foundation, The Holter Financial Group, in conjunction with the Northwestern Mutual Foundation, donated three Fun Center mobile entertainment units to Children's Hospital of Wisconsin in November. Whether hospitalized children are awaiting surgery or sitting restlessly during treatment, Fun Centers help them cope by providing endless hours of fun and distraction.

Children's Hospital of Wisconsin will have access to the Northwestern Mutual Alex's Lemonade Stand Foundation Family Travel Fund.  Designed to help relieve some of the financial burden that families often encounter, the Family Travel Fund offers assistance to families who need to travel for childhood cancertreatment at select medical institutions across the country.
Click here to see pictures from this event.
---
Darrin Englebert and his teammate Chris Fugman are proud sponsors of the Make-A-Wish Foundation of Wisconsin.   Click here to read more.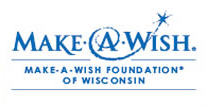 ---